New canopy projects can become very challenging when 'off-the-shelf' designs cannot fulfil the scope required. This can be due to an irregular shape to be covered, significant changes in ground levels, limitations on column positions or a requirement for more free space than regular column spacings will allow. Architectural features of adjacent buildings will need to be considered and sometimes a specific design theme will need to be incorporated into the canopy design.
The successful delivery of bespoke canopy projects requires extensive technical understanding of structure types and their design parameters, with the architectural considerations no less important to ensure design cohesion with the surrounding building fabric.
At Streetspace, our Design Engineers use advanced 3D CAD modelling software for structural analysis from the very outset, helping ensure project viability with the concept design aligned to construction reality. Alongside the technical process, frame design, fabric colours, column cladding, glazing and façade panel details can be modelled as a 3D CGI rendering, created around the digital site survey for a highly accurate visualisation of the proposed project.
Where the proposed canopy has a construction interface with existing substructures; as an elevation, roof deck, building undercroft, footbridge or even a pier, there are a number of external design factors to consider. Our Design Engineers have many years' experience developing canopy solutions that provide the covered space required while achieving regulatory standards and avoiding adverse impact on social, architectural and heritage values of the immediate surroundings.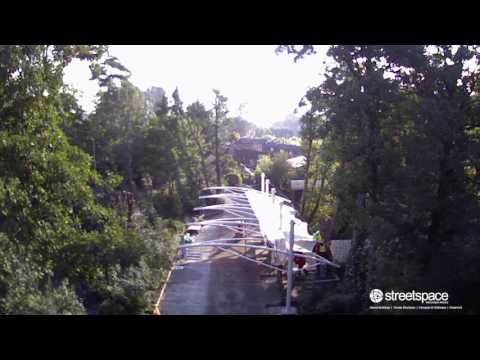 Scheme Consultation

Our team finalises project details, costs and programme of works including timeline for statutory processes, manufacture and site installation

Planning Approval

Project Consultants prepare Planning Applications to be submitted on behalf of the Client to the Local Planning Authority

Client Design Approval

Technical design, structural analysis and architectural drawings are prepared alongside the relevant statutory compliance notifications

Manufacture

Streetspace design and manufacturing processes are carried out in accordance with ISO9001:2015, ISO14001:2015 and BS EN 1090 EXC 2

Build Component Collation

Manufactured elements are inspected and packaged for specialist site delivery in line with the construction programme

Safe Working Procedures

Risk Assessments and Method Statements are prepared detailing how the project will be delivered safely and within agreed programme timescales

Site Construction

The form of Contract or Sub-Contract will determine site procedures operating as a Main Contractor or Specialist Subcontractor

Delivery & Installation

Specialist transport and installation equipment is selected to ensure challenging timescales are achieved safely and with minimal disruption to site operation

Completion & Handover

Following project completion, the handover process and sign-off can take place with required warranty and O&M documents issued

Aftercare

Streetspace Site Engineers cover the UK for both routine maintenance and emergency callout
Certain canopy types lend themselves to bespoke applications more so than others and the 3-dimensional shape of tensile membrane canopies can be designed to complement existing building fabric, softening a potential clash of design styles. Polycarbonate and glass roofed structures are better suited to those applications where a regular geometric shape can be accommodated within the available elevations and footprint.
The wide choice of colour finishes for the project steelwork, rainwater goods and glazing systems can be selected to blend or to contrast and advanced pre-treatment and coating processes ensure long term durability is not compromised for architectural value.
With a multidisciplinary approach and an extensive portfolio of bespoke projects completed; the Streetspace team, from its Project Consultants, Designers and Engineers to Project Managers and Site teams, offers a proven route for turning vision into reality.