TAURUS Glulam Structures
Used increasingly as a natural alternative to steel, glulam is a structurally engineered timber product manufactured by bonding layers of softwood together. This produces sections with exceptional strength suitable for long spans, combined with the undeniable aesthetic appeal of timber. TAURUS Glulam structures consist of feature glulam posts and rafters along with unobtrusive steel eaves beams and roof purlins.
The standard roof specification for TAURUS Glulam canopies and walkways is an advanced multiwall polycarbonate providing a bright atmosphere without glare, with our proven aluminium glazing system ensuring a reliable and easy to maintain roof cover for the long term. The 15-year roof covering warranties provide long term peace of mind, with aftercare packages available for periodic inspection and cleaning.
The fabric roof option on TAURUS Glulam Structures combines the beauty of the timber with the distinctive elegant form of tensile membranes. The fabric membrane translucency provides diffused, naturally lit spaces, while at night, artificial lighting can be used to create an ambient exterior luminescence. The PVC-based architectural fabrics have a super smooth PVDF self-cleaning outer layer and are covered by a manufacturer-backed warranty for up to 15 years depending on specification.
The versatility of TAURUS Glulam canopies and walkways can be further enhanced with the addition of glass, polycarbonate or mesh fabric sides along with lighting and heaters.
request a quote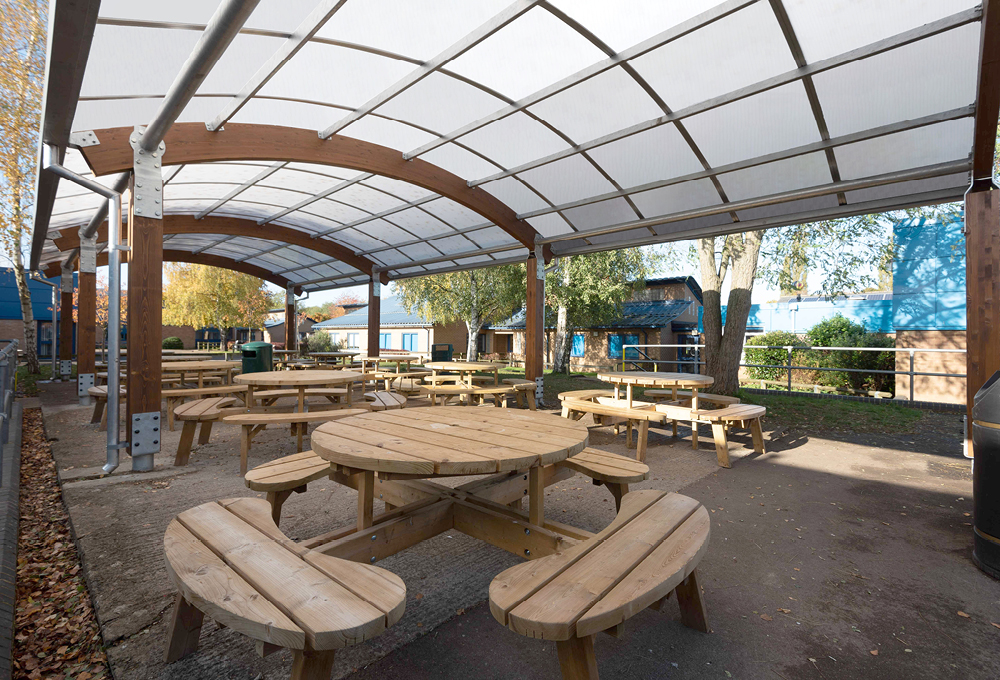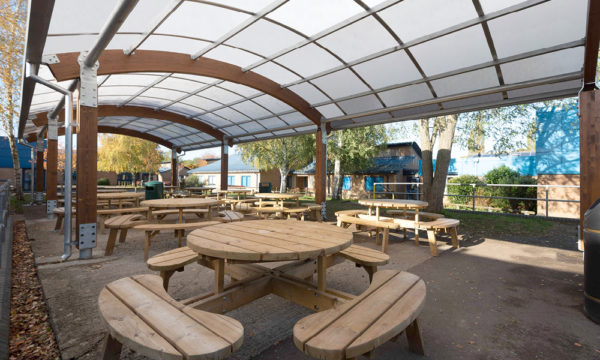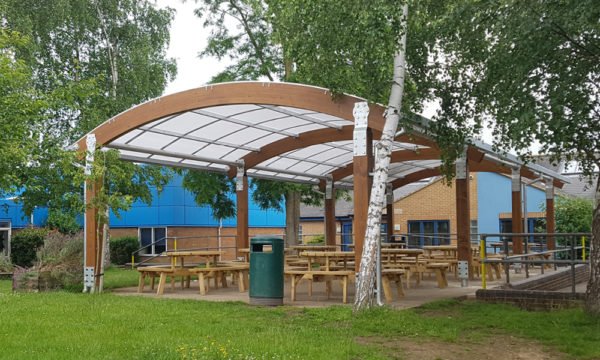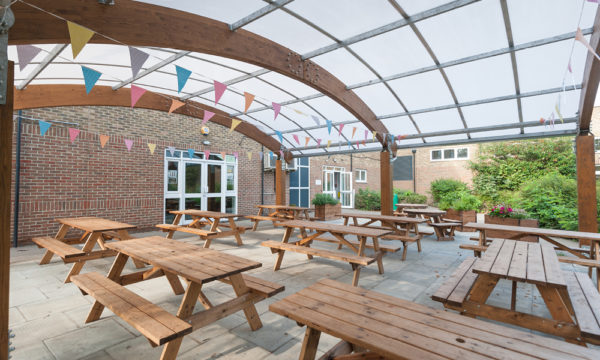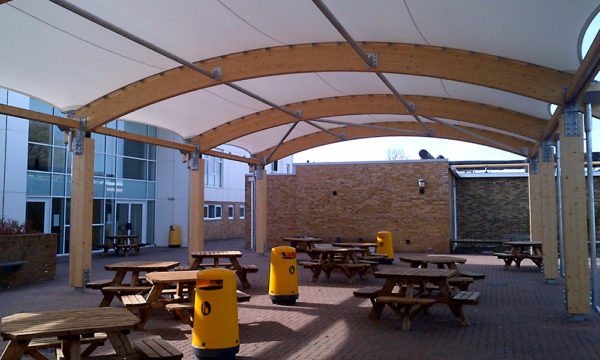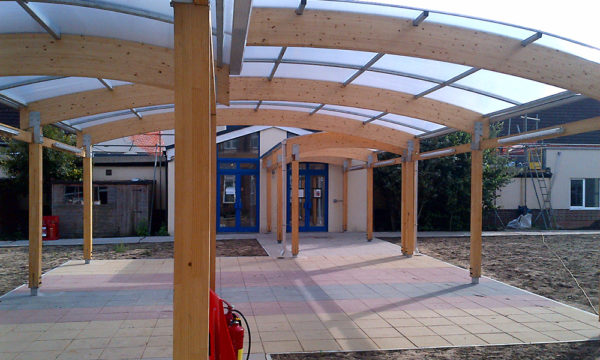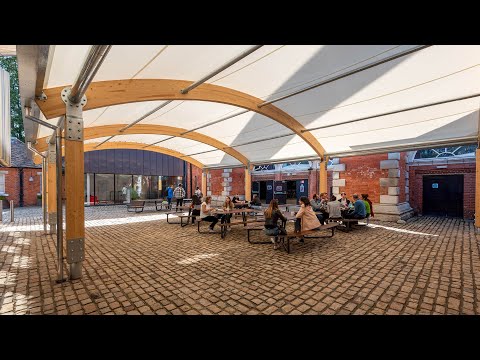 Alternatively, try our online tool to get an estimated price for your preferred canopy.
TAURUS Glulam Design Features
Great Aesthetics

Substantial glulam sections with coordinated steel base plates, eaves beams, purlins and guttering.

Glazing & Rainwater Systems

Aluminium roof glazing system and galvanised steel rainwater systems for long term reliability.

Roof Cladding Options

Select from multiwall polycarbonate or tensile membrane fabric.

Design Form Flexibility

Manufactured as radius symmetric, asymmetric or mono pitch design.

Weather Protection

Enclosure options include solid or multiwall polycarbonate, planar glass and aluminium glazed curtain walling.

Confidence in Accreditation

Our design, manufacturing and construction processes are accredited to ISO9001, ISO14001 and BS EN 1090 CE EXC 2.
TAURUS Glulam Specification & Options
Canopy Form

TAURUS Glulam canopies can be specified as curved roof or mono pitched. Asymmetric structures are particularly suited for locations against existing buildings.

Canopy Width

TAURUS Glulam canopies can be constructed in clear span widths of up to 10m and greater.

Canopy Length

There is no limit on the length of TAURUS canopies. Standard post centres are between 3.5m and 5m with variations within the structural design achievable to avoid doorways, access routes or underground services.The versatility of glulam timber means TAURUS Glulam Structures are as suited to covered walkways as they are for large clear span swimming pool structures.

Multiwall Polycarbonate

Available with a range of tint options and thicknesses, multiwall polycarbonate offers a good balance of light transmission and minimal glare.

Fabric

The standard tensile fabric is our FTO Series Architectural PVC Fabric which is very high quality and hardwearing, with a smooth PVDF surface coating and wide colour range.Multiwall polycarbonate is the standard specification of roof cladding for TAURUS Glulam Structure, with a variety of architectural fabrics available as an option with the curved roof form.

Timber Stain

Glulam sections can be stained in a range of colours, the most popular being light oak.

Hot Dip Galvanised

The standard finish for TAURUS steelwork – hot dip galvanised to EN ISO 1461. Fabricated steelwork is chemical cleaned, fluxed and immersed in a molten zinc bath to form a protective coating.Selecting the right finish for the timber and steel components for a TAURUS canopy is important for the intended use of the covered space, the location and the appearance. Structures can be modelled in various finishes and colours to help with the decision making process.

Lighting

Various lighting solutions are available to extend safe use of your covered space or walkway outside of daylight hours.

Heating

External grade radiant electric heaters can be fitted to TAURUS canopies to provide warmth to users in colder weather.

Side Cladding

TAURUS Glulam canopies can be specified with glass or polycarbonate sides and glazed doors to enhance the weather protection.Adding options to your TAURUS canopy allows even greater flexibility for extending the use of the covered space.