Semi-Enclosed Cycle Shelter
Semi-enclosed cycle shelters that provide reliable, cost-effective weather protection for a single row of cycles under an asymmetric quadrant roof. The standard CENTAUR CL 4100mm module covers 10 cycles with the sheffield-type stands and modules can be added in-line or as a compound as required.
CENTAUR CL cycle shelters are supplied with height-adjustable steel base plates that can be fixed to foundation pads either below or flush with the finished surface, depending on site and finish requirements. Surface fixed sheffield toast rack cycle stands are supplied as standard with root-fix specification available.
The clear view solid polycarbonate cladding is manufactured with UV protection on both sides providing excellent weathering properties. High impact resistance ensures the cladding is not damaged through daily use or vandalism.
CENTAUR CL cycle shelters are supplied with durable hot dip galvanised coating as standard with colour powder coat options that can include coordinated cycle stands. Sliding gate panels can be fitted to individual units for security. Cycle compounds can be created with end gates and central 'flying roof' sections.
get a quote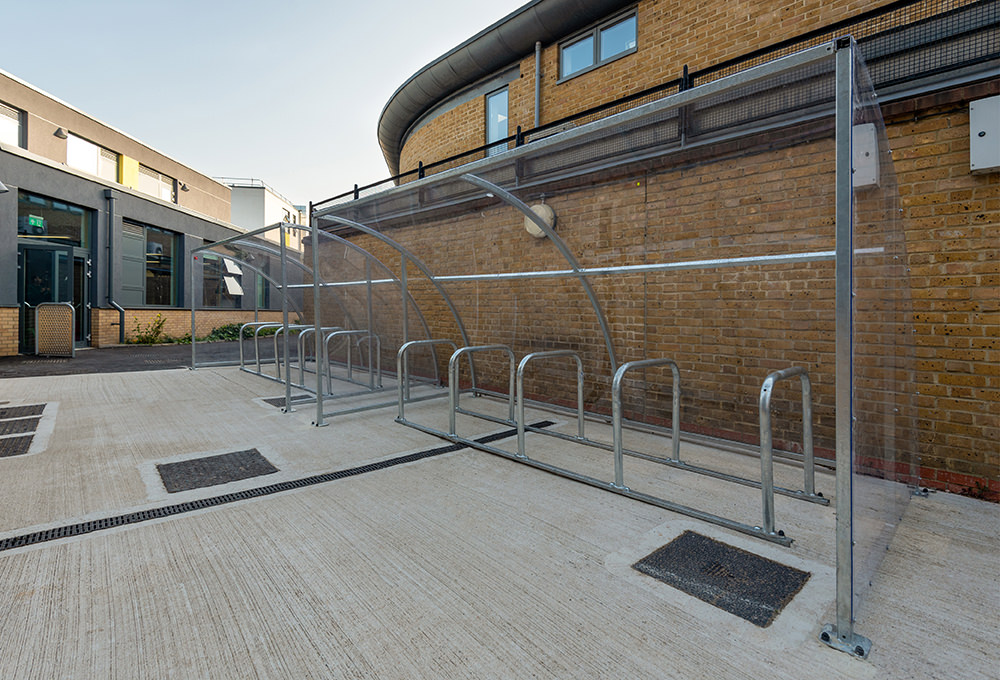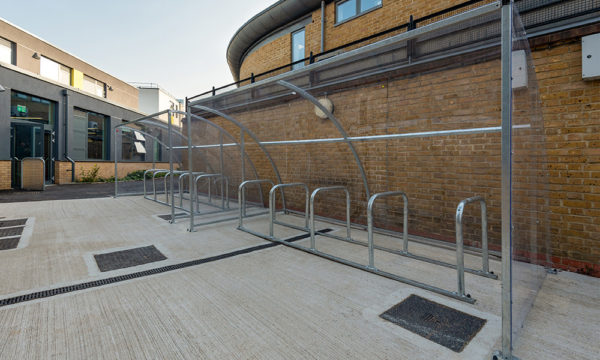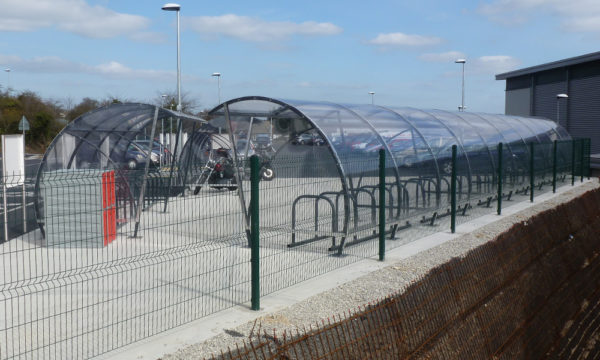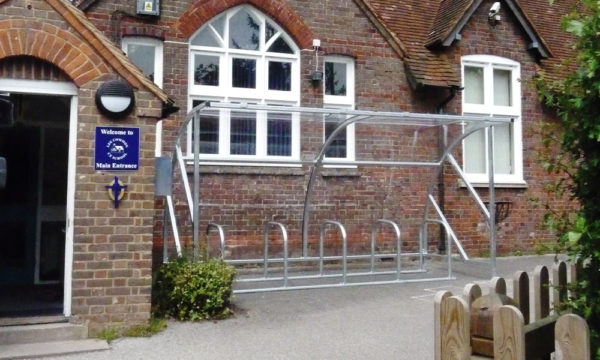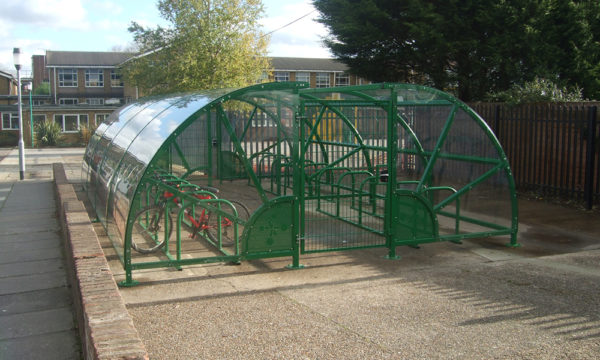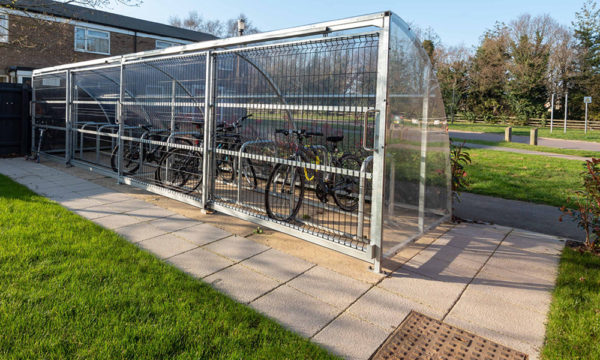 CENTAUR CL Product Variants
Semi-Enclosed Cycle Shelter

CENTAUR CL is a modular product system that can be configured with add-on bays for efficiency provided that the overall length is within advised surface level variations. Available from stock in galvanised finish for self assembly or with installation service as requires.

View product specifications

Semi-Enclosed Cycle Shelter – Sliding Security Gates

CENTAUR CL can be specified as a secure cycle shelter compound with the addition of sliding steel mesh gate panels to the front elevation. ZedPanel colour coated steel mesh cladding panels, durable steel and nylon roller tracks and a choice of access control systems.

View product specifications

Semi-Enclosed Cycle Shelter Secure Compound

The cycle shelter modules can be arranged facing across a 1.8m central aisle with steel mesh infill panel at one end and a matching gate at the other to form a complete enclosure. 'Flying roof' clear view polycarbonate panels covering the central aisle can be specified for increased weather protection.

View product specifications
CENTAUR CL Product Specification & Options
CENTAUR CL is manufactured in a single 4100mm module for 10 cycles. Custom dimensions are available to special order.

Eurocylinder lock is available with Centaur CL (Sliding Door Only). Other locking systems are available for Centaur CLC. Automatic Door Control System available for Centaur CLC.

Latch + Eurocylinder Lock

Self-Latching Daybolt
Eurocylinder Key-operated Self-Latching Bolt Lock
100% Stainless Steel Mechanism / Aluminium Handles

Latch + Code Secure Lock

Code Secured Entrance
Mechanical Code Lock
100% Stainless Steel Mechanism + Push Buttons / Aluminium Handles

Slide Bolt + Padlock

Self-Latching Daybolt
Integral Slide Bolt / Handle with Padlock Provision

Latch + RFID Lock

Self-Latching Daybolt
RFID-operated Eurocylinder Lock Release
User Control via app or web portal

Eurocylinder Lock (Sliding Doors Only)

Locating Pin
Eurocylinder Key-Operated Deadlock
100% Stainless Steel Mechanism
Integral handle with sliding door frame

Rail Fix (Toast Rack)

Stands are surface mounted to ground fix steel rails.

Baseplate

Integral base plates for individual ground fixing.

Root Fix

Stands are cast into concrete below ground.

CENTAUR Cycle shelters have a hot dip galvanised frame finish as standard and this is a coating that is highly durable in all environments. An optional powder coated finish can be selected from the following RAL colours together with coordinated cycle stands. Images are for illustrative purposes only.

Hot-Dip Galvanised

Colour Polyester Powdercoat