City3 Waiting Shelters
Streetspace waiting shelters are used in a wide variety of applications from passenger shelters at transit terminals, parent waiting areas and buggy shelters in schools, to payment terminals and trolley shelters in retail environments. The shelter variant design is also well suited to smoking shelters for office, industry and leisure.
A shelter often represents the designated smoking area while providing users protection from the elements. City3 Waiting Shelters have enclosure panels to 3 elevations as standard and comply with the 50% open ventilating regulations.
Manufactured in the UK by Streetspace Group, City3 Waiting Shelter durable all-steel frame has either a galvanised or colour powder coat finish. City3 DB and DC shelters have a radius roof form with an aluminium glazing system and multiwall polycarbonate roof panels. Enclosure panels options include solid polycarbonate, multiwall polycarbonate or toughened glass. Enclosure panel layout, bench and perch seating, litter and separate cigarette bins can be specified as additional options.
City3 DH shelters are designed with a mono pitch steel roof, colour powder coated fascia and rainwater goods and architectural enclosure options in timber slat or glass panels. Custom options extend to an integral green roof, asymmetric radius roof design forms and bespoke enclosure panel designs.
QUOTE MY PROJECT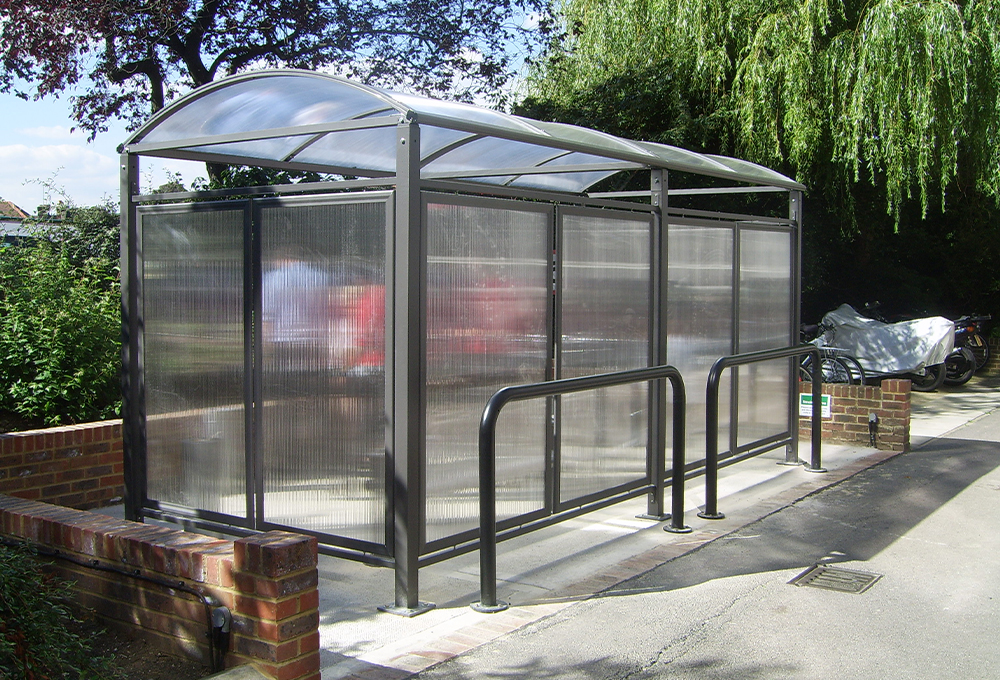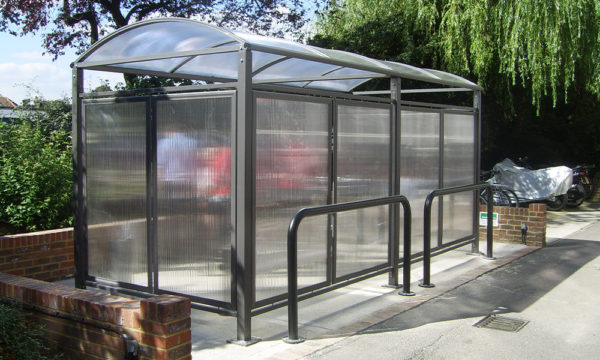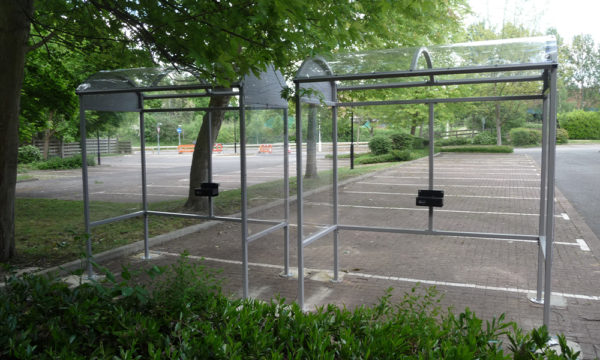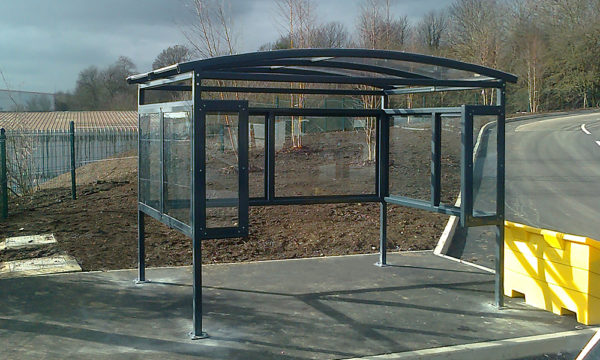 City3 Waiting Shelter Design Features
Frame Colours

Hot dip galvanised finish as standard with a choice of colour powder coat finishes optional.

CAD Design Ready

Product designs are available as CAD files or BIM files for hassle-free insertion to your project design documents.

Enclosure Options

Standard clear polycarbonate panels with glass, slatted timber and bespoke laser cut steel options.

Configurable Layouts

Flexible enclosure panel fitting to enable access and egress positions suited to site conditions.

Integrated Options

Benches, perch seats and bins can be specified as integral fixings.

Custom Design

Bespoke shelter dimensions and roof design forms including green roof and asymmetric radius.
City3 Waiting Shelter Model Variants
City3 Waiting Shelters Specification & Options
A range of cladding options are available for City3 Waiting Shelters for weather protection, specified according to the environment and the level of visibility required through the structure.

Toughened Glass

Toughened Safety Glass
Clear or Tinted Colours

Clear Solid Polycarbonate

Solid Polycarbonate Sheet / Co-Extruded UV Protection
Clear or Opaque Colours

ForestPanel Iroko Slat (Horizontal Patern)

Sustainably Sourced Hardwood PAR Slat
Untreated Finish

ForestPanel Iroko Slat

Sustainably Sourced Hardwood PAR Slat
Untreated Finish

City3 Shelters have a hot dip galvanised frame finish as standard and this is a coating that is highly durable in all environments. An optional powder coated finish can be selected from the following RAL colours.

Hot-Dip Galvanised

Colour Polyester Powdercoat