City3 Playground Shelter
The benefits of outdoor learning are widely acknowledged, with improved concentration and behaviour being tangible benefits attributed to increased play, learning and dining spaces in the engaging outdoors.
Playground shelters providing protection from UV rays and the rain enable teachers to plan their outdoor learning activities ahead regardless of the weather, are a hub for pupils during break times, and are valued by parents waiting to collect their children at the end of the day.
The unique steel frame City3 Playground shelter system from Streetspace is designed for long service life and enables us to configure the size, colour and cladding types to your bespoke requirements. Starting as an open shelter with profiled steel or multiwall polycarbonate roof cladding, vertical cladding options allow you to protect and divide your covered space with timber, steel, and glass panel options available. Living wall panels and green roof options are a great opportunity to create pockets of biodiversity and bring the natural world closer especially on urban sites.
QUOTE MY PROJECT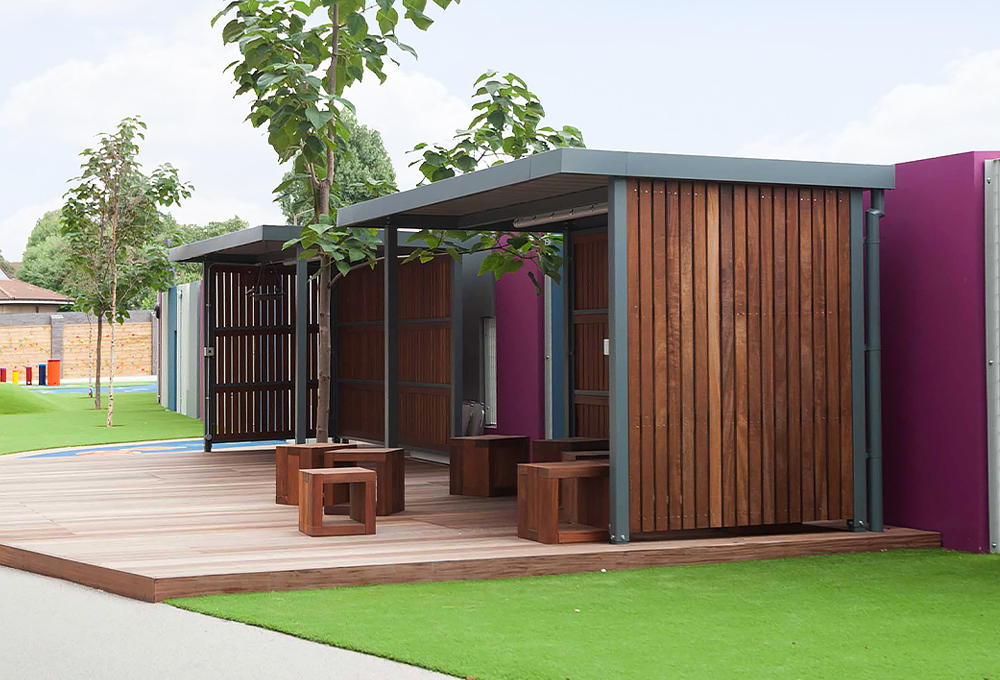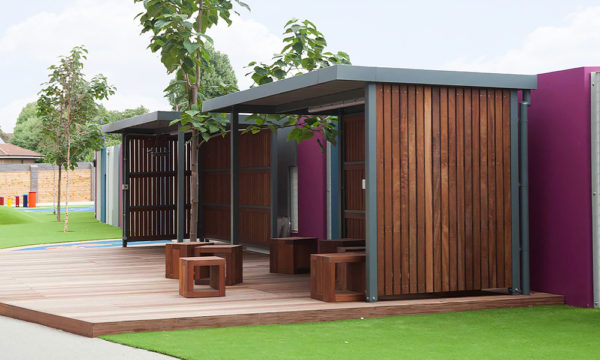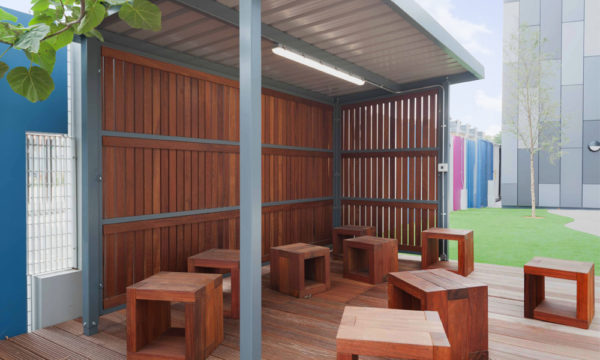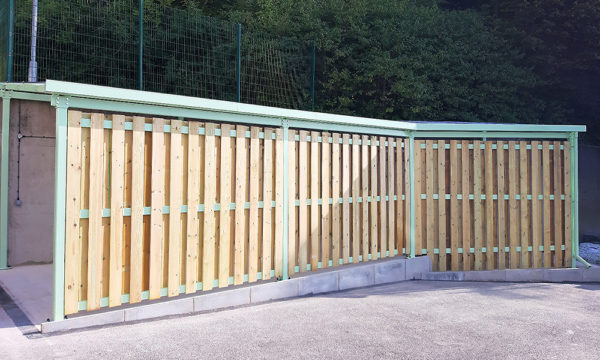 City3 Playground Shelter Design Features
Frame Colours

Polyester powder coated finish in any RAL colour.

CAD Design Ready

Product designs are available as CAD files or BIM files for hassle-free insertion to your project design documents.

Enclosure Options

Slatted timber panels, clear polycarbonate, glass, or bespoke laser cut steel options.

Configurable Layouts

Enclosure panel fitting to any sides or to divide the space into zones.

Integrated Options

Benches, perch seats, lighting and heaters can be specified as integral fittings.

Custom Design

Bespoke shelter dimensions and roof design forms including green roof.
City3 Playground Shelter Specification & Options
A range of cladding options are available for playground shelters, increasing weather protection or providing internal divider panels for different groups and activities. Cladding panels can be added to all elevations of the shelter. If you can't see the finish you require below, please get in touch with one of our sales advisors.

Toughened Glass

Toughened Safety Glass
Clear or Tinted Colours

Clear Solid Polycarbonate

Solid Polycarbonate Sheet / Co-Extruded UV Protection
Clear or Opaque Colours

ForestPanel Iroko Slat (Horizontal Patern)

Sustainably Sourced Hardwood PAR Slat
Untreated Finish

ForestPanel Iroko Slat

Sustainably Sourced Hardwood PAR Slat
Untreated Finish

ZedPanel V-Mesh Black

4mm Vertical Wire / 5mm Horizontal Wire /
200mm x 50mm Aperture Size
Colour Powder Coated Wire Black

ForestPanel SW Slat

Sustainably Sourced European Redwood PAR Slat
Pressure Treated Preservative (Green)

ForestPanel Colour SW Slat

Sustainably Sourced European Redwood PAR Slat
Pressure Treated Preservative (Green)
Colour Selection Woodstain

Multiwall Polycarbonate

High-performance multiwall glazing material manufactured from damage resistant polycarbonate with co-extruded Longlife UV protection, filtering out over 98% of damaging UV radiation. Aluminum glazing system with integral waterproof gasket type seal.

Rainwater Systems – Guttering

TRITON canopies are designed with integral steel guttering, colour powder coated to match the canopy steel frame for long term durability and ease of maintenance.

Rainwater Systems – Downpipes

Aluminium downpipes custom manufactured for each canopy with integral connections for maximum durability. Colour powder coated finishes match the guttering and steel frame.

Profiled Steel

Profiled steel roof cladding is available in a range of standard top coat colours with white underside.

Green Roof

Biodiverse green roof specifications are available as sedum only or sedum and wildflower. The lightweight system has a steel decking liner, EPDM membrane liner, composite drainage reservoir mat, growing substrate and a pre-planted vegetation mat.

Toughened & Laminated Glass

The premium alternative to polycarbonate utilising an aluminium glazing bar system. All roof glazing panels are toughened and laminated with optional interlayer tints for shading.

Clear Solid Polycarbonate

A cost effective and lighter weight alternative to glass that is significantly more resistant to impact damage.Different roof cladding options are available to suit each individual requirement, all within the standard unit design.

City3 Shelters have a hot dip galvanised frame finish as standard and this is a coating that is highly durable in all environments. An optional powder coated finish can be selected from the following RAL colours.

Hot-Dip Galvanised

Colour Polyester Powdercoat