TRITON Entrance Canopy
In addition to the functional requirement, entrance canopies can provide an inspiring focal point for a building, highlighting the entrance for visitors and creating a great first impression. TRITON entrance canopies can be specified in mono-pitched and radius form with cantilever or free-standing support. Cover systems are available from multiwall polycarbonate, solid polycarbonate, glass and architectural PVC fabrics.
Entrance canopies provide valuable weather protection for numerous applications and the adaptable design format of our TRITON canopies enables irregular cover shapes, access ramps and steps to be incorporated within the structure.
Enclosed, fully glazed entrance canopies can perform the important function of a draught lobby or airlock, reducing energy costs and maintaining a comfortable working environment for staff working in reception. These enclosed spaces can also double up as overflow waiting areas for visitors.
Streetspace's multi-disciplinary capability coordinates the design and delivery of entrance canopies as a single package, including civil engineering works and any mechanical and electrical works. Safe working around live entrances can be coordinated as required to suit operational requirements.
request a quote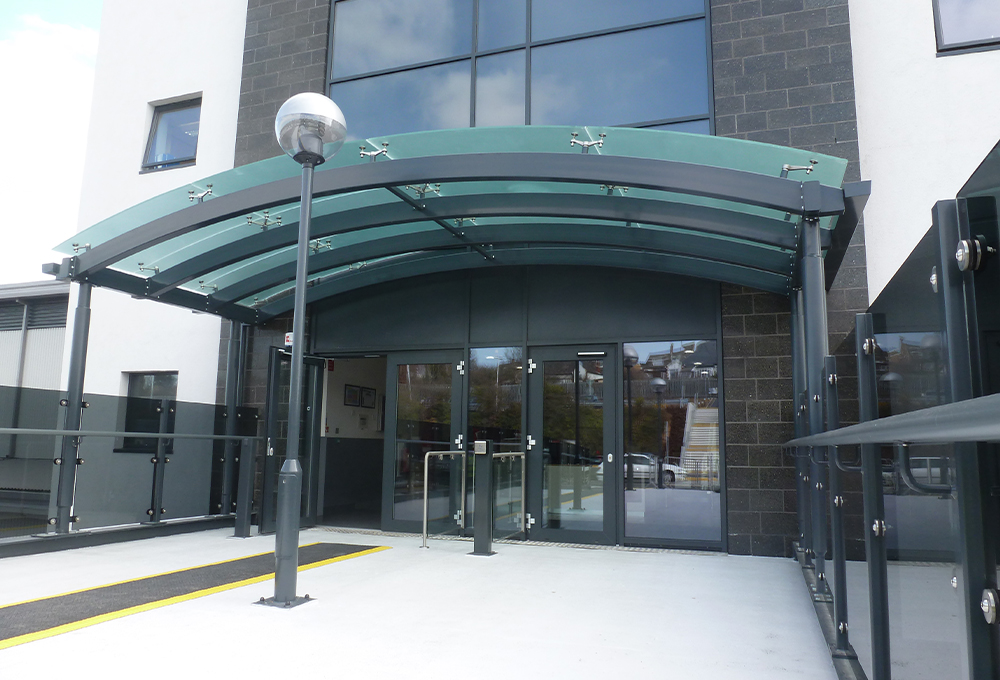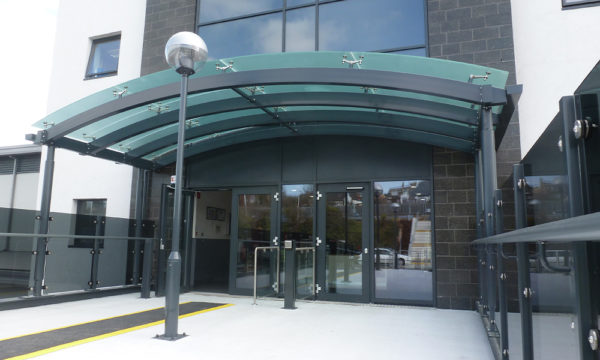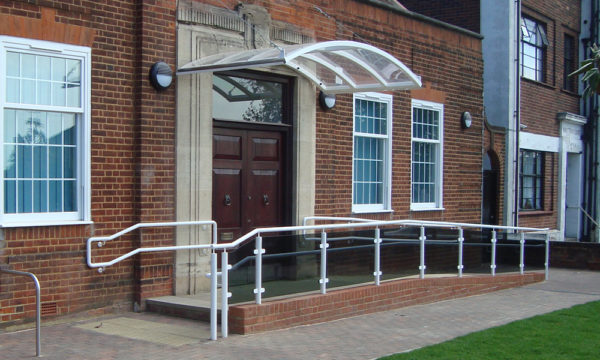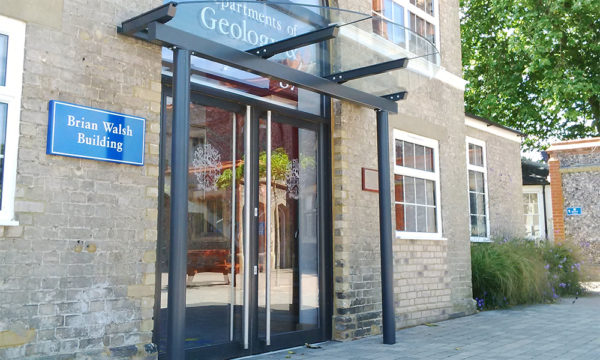 TRITON Entrance Canopy Design Features
Glazing & Rainwater Systems

Standard design features aluminium roof glazing system and galvanised powder coated steel rainwater systems for long term reliability.

Roof Cladding Options

TRITON canopies feature multiwall and solid polycarbonate or glass; green roof or fabric available as custom design.

Design Form Flexibility

Symmetric, asymmetric or mono pitch roof designs can be accommodated, wall mounted or self supporting.

Weather Protection

Enclosure options include solid or multiwall polycarbonate, planar glass and aluminium glazed curtain walling.

Light Transmission

This must be considered for the use type and the roof cladding can be specified to suit the application.

Confidence in Accreditation

Our design, manufacturing and construction processes are accredited to ISO9001, ISO14001 and BS EN 1090 CE EXC 2.
TRITON Entrance Canopy Model Variants
Wall-Mounted Entrance Canopies

Cantilever designs within a relatively shallow depth provide cover for entrance doors without column support. The supporting wall structure will require detailed assessment for suitability.

Free-Standing Entrance Canopies

Using support columns in the canopy design enables a larger canopy structure to be created and where suitable the structure can be part cantilever so that only a single set of columns are required.

Enclosed Entrance Canopies

Designed as free-standing structures, entrance canopies can be enclosed with a glass panel system or aluminium curtain walling, along with glazed aluminium doors, either manual or automated.

Custom Building Entrance Canopies

Engineered timber or steel structure supporting glass on architectural stainless steel fixings, tensile membrane, polycarbonate or even an intensive green green roof boasting a range of wildflowers.
TRITON Entrance Canopy Specification & Options
Symmetric

Typically free standing at 90 degrees to the building entrance the versatile form enables wall seal and rainwater management to canopy edges.

Asymmetric (to building)

Semi-cantilever design with low eaves at the front of the canopy providing good protection from the elements at building entrance

Monopitch

Either wall-mount or semi-cantilever with low degree roof angle enabling rainwater management to either edge.TRITON entrance canopies are designed with a form and supporting structure for each site specific application.

Multiwall Polycarbonate

High-performance multiwall glazing material manufactured from damage resistant polycarbonate with co-extruded Longlife UV protection, filtering out over 98% of damaging UV radiation. The UV protection barrier protects the sheets from weathering and yellowing under the sun and prolongs the life of the sheet. It has a broad temperature range and will maintain its properties even in extreme weather conditions.

Clear Solid Polycarbonate

A cost effective and lighter weight alternative to glass that is significantly more resistant to impact damage.

Toughened & Laminated Glass

TRITON canopies can be specified with toughened and laminated glass roof panels with optional coloured interlayer. Either an aluminium glazing system or stainless steel glass mount architectural fittings are used.

PVC Tensile Membrane

FTO Series Architectural PVC Fabrics are advanced, high quality and hard wearing, with a smooth PVDF surface coating that stops dirt getting ingrained in the fabric, reducing the level of maintenance required to keep the roof clean.Entrance canopies can be specified with the cover system types to suit site conditions or to meet an architectural brief.

Highly durable polyester powder coatings are applied as the standard finish on steel frame TRITON canopies with colours selected from a basic range or from the RAL colour selector. Steelwork is cold grit-blasted to SA2.5, with a zinc coating and anti-corrosive primer, followed by the high gloss polyester colour powder coat finish. Alternatively, hot-dip galvanised coatings can be specified for the harshest environments where a decorative finish is not required. The colours and finishes depicted on this website are representations and should not be taken as accurate.

Hot – Dip Galvanised

Colour Polyester Powdercoat

Lighting

Lighting solutions are available to enable safe use of your entrance outside of daylight hours

Timber Post Cappings

Adding timber post cappings can help soften the appearance of a steel frame structure.

Signage

Bespoke signage with lettering face fixed or freestanding can be incorporated into the entrance canopy design.

Side Cladding

Add side panels and doors to your entrance canopy to create a draught lobby for the main entrance, to help reduce energy costs.Many additional options such as lighting, heating and doorsets are available for our TRITON Entrance canopies to enable you to configure the structure so that it fulfils all of your requirements.