Tensioned or tensile fabric structures are canopies that feature cabling or wiring that helps provide crucial support to a building structure by tensioning in the membrane system. This kind of system can exist in many different forms, though it is based on the basic builds known as the Cone and the Saddle. It can be used to create eye-catching architectural structures, offering various structures for roofs and free form designs. As the fabric tensions, all creases are removed and it is strengthened to cope with adverse weather conditions and protect against damage.
The flexible design aesthetic of a tensile fabric structure comes from the distinctive elegant form unique to those characteristics of membrane tension. In daylight, fabric membrane translucency offers soft diffused naturally lit spaces, while at night, artificial lighting can be used to create an ambient exterior luminescence.
When & where can tensile fabric structures be used?
These are ideal when you need a large sheltered or shaded area for a wide variety of applications. As they use less material than conventional structures, they are more lightweight and easier to move from one location to another. Aside from the practical benefits, tensile fabric structures can also be a great option for creating an aesthetically pleasing focal point whilst complimenting surrounding buildings or development. Below are some typical scenarios where our customers require these structures:
Additional lightweight elements to pre-existing buildings, such as atrium roofs, shading systems, covered walkways, skylights or canopies.
As a prefabricated modular structure. We manufacture and install modular frame buildings that consist of metal framing with tensile fabric panelling, which are the most economic options on the market.
When a building has to move from one place to another, for example during a refit, as part of temporary school buildings or travelling exhibitions.
When a wide span is required, with or without columns. Tensioned fabric structures can stretch for lengths as much as 150ft without support. Tension steel cable nets and fabric can stretch double that distance. It is possible when using air structures to stretch them out for greater distances as much as thousands of feet without supporting columns.
When an element is required to stand out from more traditional buildings and structures as a showpiece, whether that is a building icon or urban object.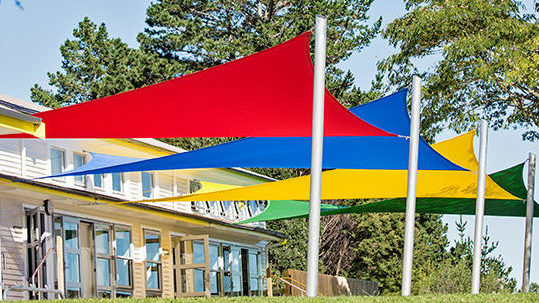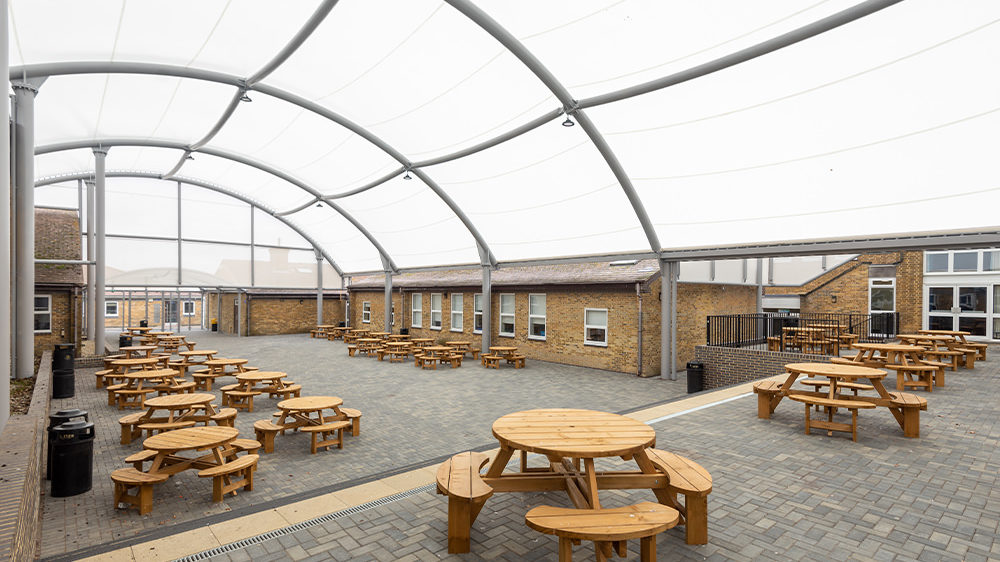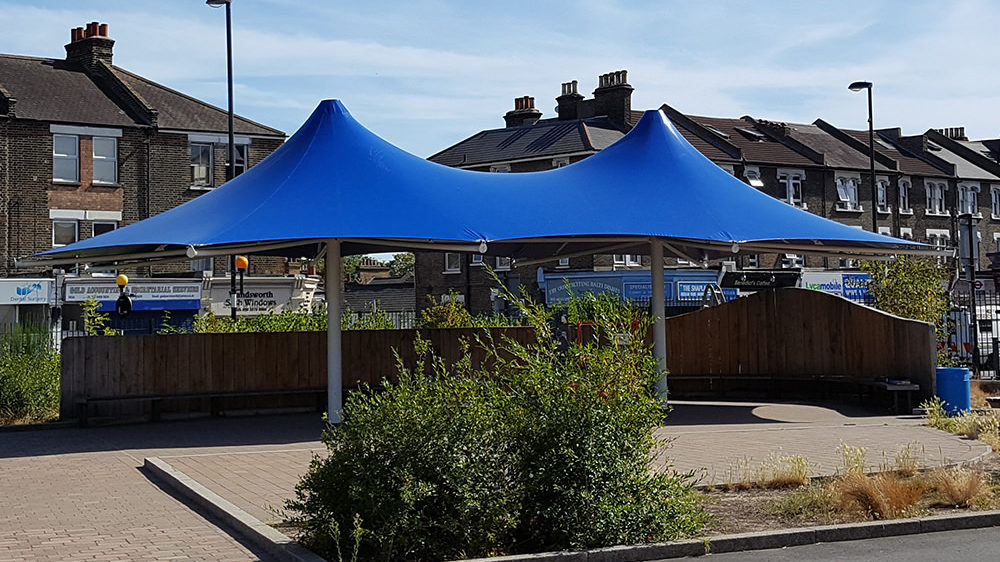 Engineered To Be Durable & Fire Resistant

The durability and longevity of our tensile fabric membrane structures has long been proven in cold to hot climates and offer fire resistance to meet building regulations and codes.

Maximise Space

The structural design integrity and lightweight nature of tensile membranes require less steel to support the roof compared to conventional building materials, enabling clear spans of column-free space.

High Sun Reflectivity

Where tensile membrane structures are designed close to existing buildings the translucency of the product has significant benefit. With High sun reflectivity and low absorption of sunlight, less energy will be used within the adjoining building. An additional feature of fabrics to consider is the excellent acoustics and noise reduction underneath the canopy. A tensile structure will do much to absorb the sound of rain as well as voices and echo.

Cost Efficient Design

We use a high-tech PVC architectural fabric with PVDF topcoat self-cleaning lacquering layer for improved UV resistance. These PVC fabrics have a lifespan equal to alternative covering materials and costed over a 25 year service life a replacement membrane represents a cost-efficient design. In addition to this a tensile membrane system will require minimal maintenance when compared to an equivalent-sized conventional roof covering.
What are the fabrics used?
Whilst it is true that all fabrics can be used to create tension by pulling them in opposite directions, they all exhibit very different characteristics from one another. Tensioned fabric structures utilise four types of fabric at the moment, including:
PVC glass fabrics – Predominately used as internal tensile sails, in glare control systems and atriums, this type of fabric does not require much maintenance. It meets the standard of B.S 476 0 for Fire Code.
ETFE (Ethylene Tetrafluoroethylene) foils (only in permanent structures) – This fabric is used in structures featuring inflated pillows where the thermal properties are crucial. In a similar way to laminated glass, foils can be fritted or transparent to give a degree of translucency where required.
PTFE (Polytetrafluoroethylene) coated glass (also only in permanent structures) – 100% inert and benefits from a 30-year lifespan. It is also considered to be completely non-combustible by the majority of recognised and official building codes and does not degrade when subjected to UV rays. PTFE-coated glass meets the standard of B.S 476 Class 0 for Fire Code.
PVC-coated polyester – As this material has a lifespan of around 10 to 20 years it offers the best value for money. It has been used in a wide variety of applications throughout the world for more than 40 years and is incredibly easy to transport when it is required for temporary structure and building uses. PVC-coated polyester meets the standard B.S 7837 for Fire Code.
Can tensioned fabric structures be formed into any shape?
All canopies use the principles and curves of either the Cone or Saddle, or a combination of both. The Cone resembles a volcano and has radial geometry formed with hoops and radians. The Saddle is a surface with two low points and two high points, also referred to as a hyperbolic paraboloid. The surface is created by taking a rectangular grid and warping it or by making it orthogonal (meet at right angles). Similarly to the use of the square and circle in classic architecture, the Saddle and Cone can be combined to produce a limitless amount of possible permutations.
Are tensioned fabric structures eco-friendly and sustainable?
Tensioned fabric structures normally use light-toned roofing to ensure that as little heat is attracted to them as possible. They utilise small volumes of materials over large lengths and areas, utilising the Venturi effect for natural ventilation and providing natural daylighting through translucency. The supplier can, when necessary, recycle ETFE foils, Polyolefin fabrics, Expanded PTFE and PVC polyester for use in lower grade applications.
What is the cost of tensioned fabric structures?
A fully installed tensile is priced per square metre. The cost includes everything from the fittings, cables, supports and groundworks. The price can vary considerably though, depending on how complex the design is, the quality of connections and materials, the snow and/or wind conditions in the local area and the size of structure that is required.