Canopy type structures are ideally suited to support green roof systems, with the lower height and uncomplicated build, reducing construction and maintenance costs. Entrance canopies, classroom canopies, covered walkways and outdoor dining structures often have a significant visual impact and a green roof can help the canopy blend in, improving views from surrounding buildings and creating better environments with the introduction of biophilic design.
Green roof structures introduce valuable pockets of diversity with hundreds of plant and wildlife species can be established in a few square metres, reproducing varied ecosystems in areas where the habitat has been eroded by urbanisation.
Extensive green roofs have been found to reduce water run-off by up to 90%, depending on season and the prevailing ambient temperatures. The plants and soil retain a significant proportion of the rainwater, much of which is then released back into the atmosphere gradually through evapotranspiration. Peak flow from green roofs during storm conditions is also reduced as the rainwater filters slowly through the growing media and filter layers, mitigating the pressure on local surface water drainage systems.
There are two types of green roof specified on Streetspace canopy structures and these are sedum only or sedum and wildflower. Both are lightweight systems with a steel decking liner, EPDM membrane liner, composite drainage reservoir mat, the growing substrate and finally the pre-planted mat. The sedum only type used a mineral wool substrate, and a mixed sedum turf while the sedum and wildflower requires a greater depth of growing medium to support the wildflower species.
Green roof specification is well proven on Streetspace canopy design with supporting structure, eaves detail and rainwater systems manufactured to provide a consistent, architectural aesthetic. Timber clad, galvanised or colour powder coated finishes are available.
request a quote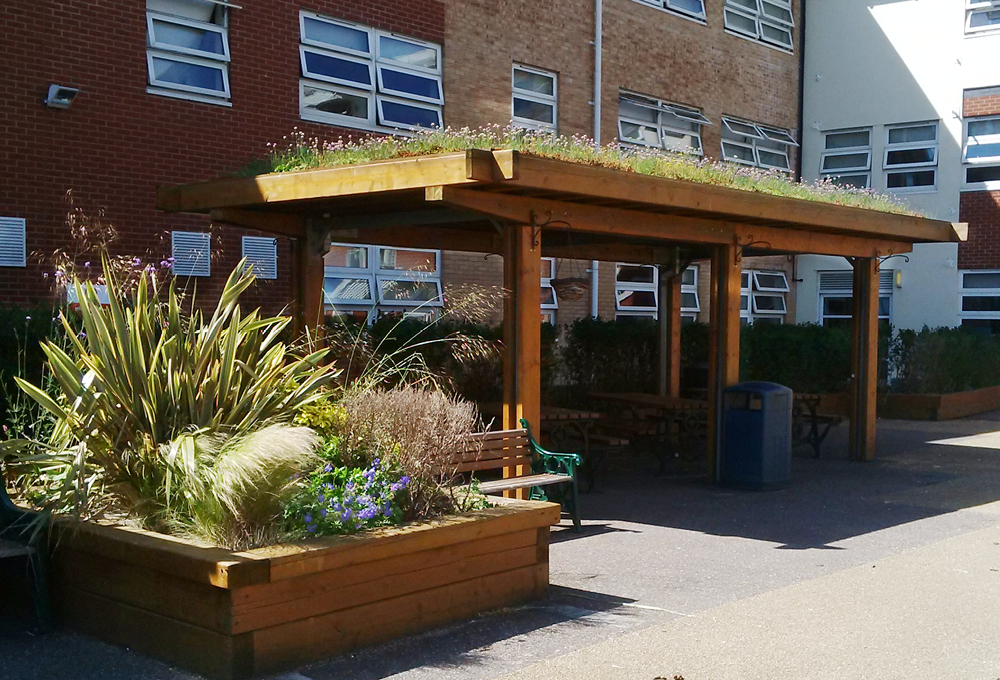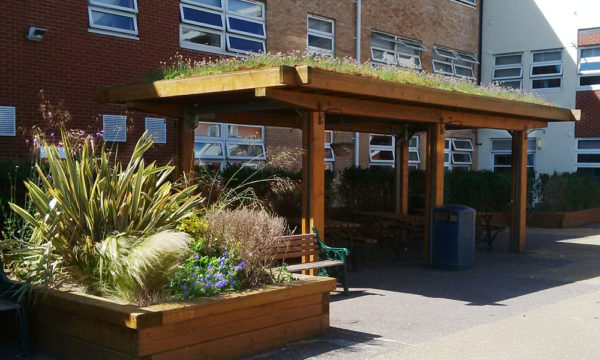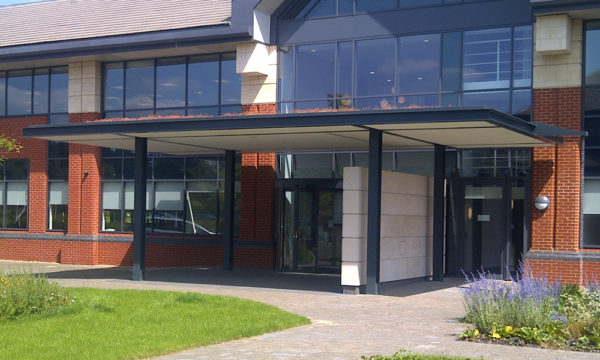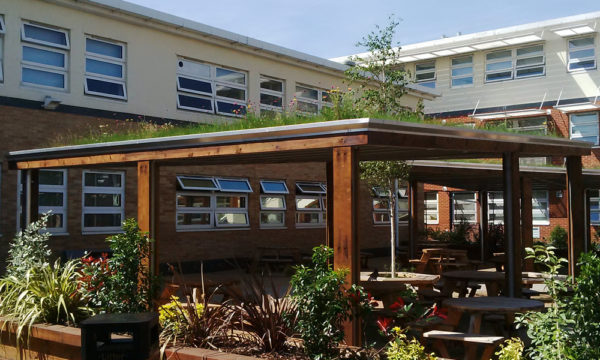 Design Features
CO2 Reduction

Green roofs help to reduce the amount of CO2 in the air, with 1m2 of green roof able to absorb 5 kg of CO2 annually.

Ease of Specification

A large range of formats, sizes and layouts enable green roof cycle stores to be fitted into any available space.

Cleaner Air

Plants help combat the effects of pollution, absorbing noise, trapping dust, and breaking down many gaseous pollutants.

Increased Biodiversity

Green roofs can provide a habitat for various species and help restore the ecological cycle disrupted by urban infrastructure.

Biophilic Design

Green roofs help connect building occupants more closely to nature, creating a more productive and healthy built environment for people.

Sustainable Construction

Specifying green roof external stores can be used to help new development secure additional BREEAM or Sustainable Housing Code value.
Green Roof Specifications & Options
Structural Design

Green roof structural design and manufacture in accordance with requirements of BS EN 1090 EXC2 from mild steel section with hot-dip galvanised finish.

Roof Deck

Green roof structural deck is constructed from full-length trapezoidal profile steel sheet with double sided zinc and paint finish.

Waterproof Liner

Single sheet EPDM liner which is 100% synthetic and UV resistant with excellent puncture resistance protected by the geotextile membrane.

Root Membrane

A geotextile lining sheet preventing any damage to the waterproof liner during installation or establishment phases.

Drainage Reservoir System

A double-sided drainage and reservoir layer made from recycled plastic, which allows high levels of water retention and buffering in hot weather with rapid drainage in wet periods.

Green Roof Substrate

A growing medium made of virgin rock mineral wool fibres specially needled to form a 40mm deep compact and dimensionally stable felt, ensuring excellent water retention and conservation.

Sedum-mix Blanket

A pre-grown vegetation mat specifically designed for green roofs, sown with a blend of sedum plant varieties to provide extended interest and colour throughout the flowering period. Sebaceous sedum plants are adept at storing water in their leaves and are therefore extremely suitable for varying weather conditions.

Eaves Detail & Rainwater Systems

Formed in galvanised steel sheet with a structural profile to support the membrane system and retain green roof build up. Optional powder coated finish available. Pre-formed gutter profile allows excess water to be released from the composite reservoir.

Sedum-only green roof structures use a sedum turf, which can contain eight or more of the species below. This type of green roof uses a mineral wool substrate, resulting in a very light weight roof. Sedum-only green roofs are drought tolerant with minimal maintenance requirements.

Sedum Acre

Golden Carpet

Sedum Album

White Stonecrop

Sedum Floriferum

Bailey's Gold

Sedum Hybridum

Czar's Gold

Sedum Kamtschaticum

Orange Stonecrop

Sedum Reflexum

Crooked Yellow Stonecrop

Sedum Sexangulare

Tasteless Stonecrop

Sedum Spurium

Coccineum Purple Carpe

Sedum Spurium

Summer Glory

Sedum Stoloniferum

Stolon Stonecrop

Sedum and wildflower green roof structures use a turf, which in addition to 8-10 types of sedum, contains many of the wildflowers, herbs and flowering perennials listed below. The drought tolerant sedum provides year-round cover, while the wildflower element has a prolonged flowering period, typically from April-September. The lightweight blended growing medium supports additional species. Maintenance requirements are slightly higher than sedum only with dead growth removal required at the end of the flowering season.

Achullea Millefolium

Yarrow

Daucus Carota

Wild Carrot

Galium Album

Hedge Bedstraw

Knautia Arvensis

Field Scabious

Leucanthemum Vulgare

Oxeye Daisy

Origanum Vulgare

Wild Marjoram

Plantago Media

Hoary Plantain

Primula Veris

Cowslip

Rhinanthus Minor

Yellow Rattle

Echium Vulgare

Viper's Bugloss

Veronica Spicata

Spiked Speedwell

Thymus Vulgare

Common Thyme

Lychnis Flos Cuculi

Ragged Robin

Centaurea Scabiosa

Greater Knapweed

Filipendula Ulmaria

Meadowsweet

Galium Verum

Lady's Bedstraw

Leontodon Hispidus

Rough Hawkbit

Lotus Corniculatus

Birdsfoot Trefoil

Plantago Lanceolata

Ribwort Plantain

Poterium Sanguisorba

Salad Burnet

Prunella Vulgaris

Selfheal

Silene Dioica

Red Campion

Silene Vulgaris

Bladder Campion

Allium Schoenoprasum

Chives

Linaria Vulgaris

Toadflax

Dianthus Carthusianorum

Carthusian Pink